A Comprehensive Guide To Writing Economics Essays
How to Structure an Economics IA
This post will go through what you should write in your Economics IA, with step-by-step instructions and with word counts for each section. What you need to know before you write:
Avoid writing anything that isn't going to earn you marks. You're going to need all the words you can get for your analysis and evaluation. Avoid quotes from the article and introductions longer than 2 sentences.
Stick with one section of the course (micro, macro, international, or development). Don't start off in micro (apple prices rise, supply and demand, elasticity) and then evaluate the potential macro effects (this could hurt economic growth). Even if this is true, the IA is about going deep into one part of the course, rather than showing the linkages between different parts.
Less is (often) more. Because of the very constraining word count (750 words) you'll want to focus on really developing just one or two (two at the most) diagrams in your IA. And only evaluate one potential solution (the one in the article or one of your choice if (and only if) there isn't one in your article. Some of you, I know, are wondering, "What if the article mentions two solutions? Like price ceilings AND subsidies?" Answer: the International Bacheloreate Organization says you can highlight the section of the article you're going to focus on, so just highlight one solution (and not the other) and you're good to go. Bibliographies are not obligatory, but they're nice. And if you include them, they won't count against you for the word count.
Now you're ready. Here's the Method:
1 Key words (150 Words)
Don't waste words with a lengthy introduction (or quotations). Instead right away start explaining the case using at least 4 course words (and then use more later). You may want to define some of these words, but we're definitely not looking for a list of definitions. Actually definitions are not specifically required in this new syllabus.
The rubric only asks for terms to be "used appropriately." So you can get away without definitions if you are using terms in ways that show you definitely know what they mean. If you do define some words (which is still advisable) , do so only after you've used them in a sentence. Also, make sure to always use the economic terms rather than the common terms for things throughout your IA. So instead of writing "money" write "consumption" or "expenditure" or "spending." This will help to convince the reader you are familiar with the subject.
2 Draw the Diagram (0 Words)
The diagram (and it's titles, etc) do not count in your word count. You need to diagram the problem explained in the article. And also diagram your solution. Sometimes both the problem and the solution can be shown on one diagram. Sometimes not. Of course don't include a diagram (or any theory at all) that doesn't help you to explain the case. Include in your diagram as much information as you can. It will need to:
-Use a full title such as, "The Market for Apples in Singapore"
-Label all of your lines
-Mark all of your intersections with a letter, so you can refer to them later in your article
-Shade in and fully label the areas of the shapes on your diagram (i.e. excess demand),
-Indicate the exact prices and quantities (or percentage changes in price or quantity if they are included in the article. If not, label them Q1, Q2, P1, P2, etc.
Show as much as you can in your diagrams. A clear picture can help you tell a lot.
Obviously you will want to fully label your X and Y axis. Let's look at a simple supply and demand curve for apples:
3 Fully explain your diagram (200 words)
A big mistake students make is that they will identify the key concepts that explain the case, but they don't explain how those concepts work. They skip steps in their explanation. It's human nature to do that. We all do that all the time. We assume the reader is understanding what we're saying. In this case you can't do that. You need to force yourself to explain things step by step. Let's look at an example. I have a students' (practice) commentary in front of me that reads:
"Supply shifts inward because there was a draught. This leads to a higher price and a lower quantity demanded"
Maybe you're thinking this isn't too bad. However, this student has skipped a few steps. He doesn't make it understandable to a reader who doesn't know the theory. If you have to be an expert to understand what you're talking about you aren't doing it right. You can't think of your reader as an expert. My student here could have written something like:
"The leftward shift of the supply curve means that, for any given price, less is supplied. This creates excess demand at the original equilibrium price, which puts upward pressure on price. Producers receive the signal to increase their prices and they do."
Writing like this (step-by-step) isn't easy. Luckily in this case you get to edit your own writing as many times as you want before you hand it in.
4 Develop Your Explanation (100 words)
Analysis is about explaining how the theory relates to the case. You have already done a lot of that by FULLY explaining your diagram. But now I want you to take it a step further. Go deeper in your explanation. For example, explain how what is happening in the article is not exactly what the theory said would happen (i.e because of the external factors that exist).
Explain to us to what extent the theory you have used explain what's actually going on in the article? And show the linkages between different aspects of theory. Basically you're trying to take it to the next level. But you aren't evaluating. You're just making sure that you have fully explained the theory and how the theory relates to the case.
5 Evaluate a solution (300 words)
Every article is about a problem. For example, apples are too expensive after the drought. In your commentary you're expected to evaluate ONE possible solution. If one is mentioned in the case it must be that one that you evaluate. You can suggest one and evaluate that only if a solution isn't already mentioned in the article. You want to choose the most appropriate (most likely) solution here, rather than one that is obviously not going to work at all.
To evaluate you'll need to use at least 3 different (CLASPP) approaches. (The CLASPP approach to Economics evaluation is explained here). Try to include "assumptions" of the theory if you can, to show the limits of the theory and that it doesn't always work out in real life. In the final of the 3 posts on Mastering the Economics IA we will take a detailed look at the 2013 rubric and use a checklist to make sure you really do get full marks.
A big thanks to Thanks to John Gangi (at United Nations International School in Hanoi and author of EconRules.com) and Kaisar Dopaishi (DP Economics workshop leader and Principal of Singapore International School, India) for their helpful feedback.
Some tips for writing economics essays  Includes how to answer the question, including right diagrams and evaluation – primarily designed for A Level students.
1. Understand the question
Make sure you understand the essential point of the question. If appropriate, you could try and rephrase the question into a simpler version.
For example:
Q. Examine the macroeconomic implications of a significant fall in UK House prices, combined with a simultaneous loosening of Monetary Policy.
In plain English.
Discuss the effect of falling house prices on the economy
Discuss the effect of falling interest rates (loose monetary policy) on economy
In effect, there are two distinct parts to this question. It is a valid response, to deal with each separately, before considering both together.
It helps to keep reminding yourself of the question as you answer. Sometimes candidates start off well, but towards the end forget what the question was. Bear in mind, failure to answer the question can lead to a very low mark.
2. Write in simple sentences
For clarity of thought, it is usually best for students to write short sentences. The main thing is to avoid combining too many ideas into one sentence. If you write in short sentences, it may sound a little stilted; but it is worth remembering that there are no extra marks for a Shakespearian grasp of English. (at least in Economics Exams)
Look at this response to a question:
Q. What is the impact of higher interest rates?
Higher interest rates increase the cost of borrowing. As a result, those with mortgages will have lower disposable income. Also, consumers have less incentive to borrow and spend on credit cards. Therefore consumption will be lower. This fall in consumption will cause a fall in Aggregate Demand and therefore lead to lower economic growth. A fall in AD will also reduce inflation.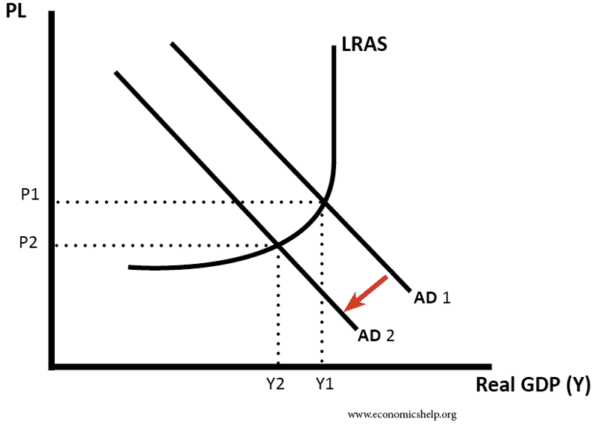 I could have combined 1 or 2 sentences together, but here I wanted to show that short sentences can aid clarity of thought. Nothing is wasted in the above example.
Simple sentences help you to focus on one thing at once, which is another important tip.
3. Answer the question
Quite frequently, when marking economic essays, you see a candidate who has a reasonable knowledge of economics, but unfortunately does not answer the question. Therefore, as a result, they can get zero for a question. It may seem harsh, but if you don't answer the question, the examiner can't give any marks.
At the end of each paragraph you can ask yourself; how does this paragraph answer the question? If necessary, you can write a one-sentence summary, which directly answers the question. Don't wait until the end of the essay to realise you have answered a different question.
Example.
Discuss the impact of Euro membership on UK fiscal and monetary policy?
Most students will have revised a question on: "The benefits and costs of the Euro. Therefore, as soon as they see the Euro in the title, they put down all their notes on the benefits and costs of the Euro. However, this question is quite specific; it only wishes to know the impact on fiscal and monetary policy.
Evaluation
The "joke" goes, put 10 economists in a room and you will get 11 different answers. Why? you may ask. The nature of economics is that quite often there is no "right" answer. It is important that we always consider other points of view, and discuss various different, potential outcomes. This is what we mean by evaluation.
Macro-evaluation
Depends on the state of the economy – full capacity or recession?
Time lags – it may take 18 months for interest rates to have an effect
Depends on other variables in the economy. Higher investment could be offset by fall in consumer spending.
The significance of factors. A fall in exports to the US is only a small proportion of UK AD. However, a recession in Europe is more significant because 50% of UK exports go to EU.
Consider the impact on all macroeconomic objectives. For example, higher interest rates may reduce inflation, but what about economic growth, unemployment, current account and balance of payments?
Consider both the supply and demand side. For example, expansionary fiscal policy can help to reduce demand-deficient unemployment, however, it will be ineffective in solving demand-side unemployment (e.g. structural unemployment)
Example question:
The effect of raising interest rates will reduce consumer spending.
However, if confidence is high, higher interest rates may not actually discourage consumer spending.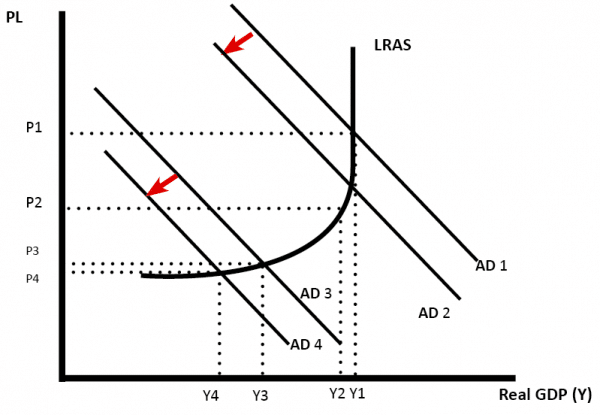 If the economy is close to full capacity a rise in interest rates may reduce inflation but not reduce growth. (AD falls from AD1 to AD2)
However, if there is already a slowdown in the economy, rising interest rates may cause a recession. (AD3 to AD3)
Micro-evaluation
1. The impact depends on elasticity of demand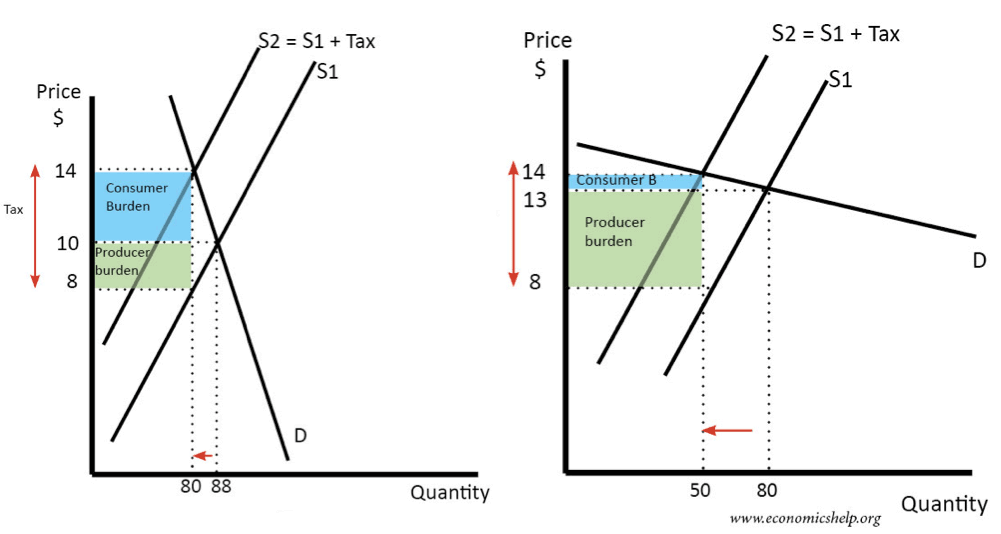 In both diagrams, we place the same tax on the good, causing supply to shift to the left.
When demand is price inelastic, the tax causes only a small fall in demand.
If demand is price elastic, the tax causes a bigger percentage fall in demand.
2. Time lag
In the short term, demand for petrol is likely to be price inelastic. However, over time, consumers may find alternatives, e.g. they buy electric cars. In the short-term, investment will not increase capacity, but over time, it may help to increase a firms profitability. Time lags.
3. Depends on market structure
If markets are competitive, then we can expect prices to remain low. However, if a firm has monopoly power, then we can expect higher prices.
4. Depends on business objectives
If a firm is seeking to maximise profits, we can expect prices to rise. However, if a firm is seeking to maximise market share, it may seek to cut prices – even if it means less profit.
5. Behavioural economics
In economics, we usually assume individuals are rational and seeking to maximise their utility. However, in the real world, people are subject to bias and may not meet expectations of classical economic theory. For example, the present-bias suggest consumers will give much higher weighting to present levels of happiness and ignore future costs. This may explain over-consumption of demerit goods and under-consumption of merit goods. See: behavioural economics
 Related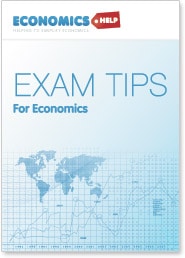 Exam tips for economics – Comprehensive e-book guide for just £5